Modern Mama: Here are the Top Pictures!
After debating for 2 days on who we should pick as the Top 3 pictures on Modern Mama Contest, we finally gave up! We are so grateful that all of you are so excited about the contests and have submitted such wonderful pictures and stories. So yup, we gave up trying to pick ONLY 3 pictures. Instead, we chose 6 pictures for all of you to vote!

So without further ado, here are the Top 6 Pictures and the stories behind their pictures and their chose role as "Modern Mama", listed in the order it was posted in our forum:

#1 "Perenang Handal" by BundanyaLana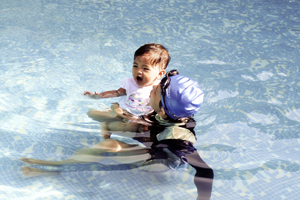 Sejak Lana usia 6 bulan, saya sudah mengajarkan dia untuk mengenal dan menyenangi air. Salah satunya adalah dengan mengajak dan mengajarkan Lana berenang. Sampai sekarang, berenang adalah kegiatan rutin kami hampir di setiap weekend. Senang rasanya melihat Lana sudah bisa menggerakkan kaki dan tangan-nya seperti layak-nya orang berenang. Cerita lebih lengkap bisa dilihat di sini.


#2 "Freelancer Mom" by nyanya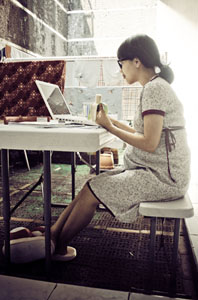 Sebenernya gak ada yang spesial dari foto ini. Karena banyak juga di sini mama yang bekerja di rumah seperti writer, designer atau mamas yang punya online shop. Saya sendiri memutuskan freelance, karena kantor saya yang lama (Jakarta) meminta saya untuk 'membantu' mereka tanpa perlu datang ke kantor (saat ini saya tinggal di Bandung). Tenyata sungguh menyenangkan bekerja di rumah selama hamil. Pertama, saya gak terlalu mikirin baju atau sepatu apa yang akan saya kenakan. Kadang saya masih pake baju tidur lengkap dengan slipper karna males mandi. Kedua, waktu bekerja bisa saya atur sesuai dengan keinginan saya, kecuali sewaktu-waktu kantor meminta saya untuk online. Biasanya saya mulai membuka laptop saya setelah suami berangkat ke kantor. Ketiga, masih bisa melakukan pekerjaan rumah, seperti mengangkat jemuran dan memasak. Yang terakhir, saya bisa bekerja sambil ngemil , browsing... khususnya browsing mengenai kehamilan... dan tidur siang. Ibu hamil pastinya ga boleh kelaperan dan kecapean... di samping harus punya cukup waktu untuk menambah pengetahuan mengenai kehamilan baik dari buku atau internet

#3 "Brenda, The Shopkeeper" by yudhis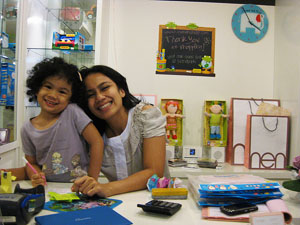 Ini dia Kartini pilihanku!
Gw salut banget sama Brenda yang sudah selama 3 tahun ini mau jumpalitan jaga toko sekaligus jaga rumah. Secara dulu pas awalnya Nenen Baby Shop berdiri, kita sepakat mau jaga langsung berdua karena belum punya pengalaman bisnis (dan modal kurang hehehe). Plus karena pingin deket ama Vanya, jadi sepakat juga ndak mau pakai nanny & pembantu. Alhasil keseharian kita selama ini hanya Brenda seorang yang bisa membuat segalanya terasa nyaman. Tahun ini kita dah bisa punya karyawan yg bantu. Next, cari pembantu biar Brenda bisa lebih ada waktu lagi buat keluarga dan teman-temannya. Were so proud & love of you, Ma!

#4 "Bumblebee" by thelilsoldier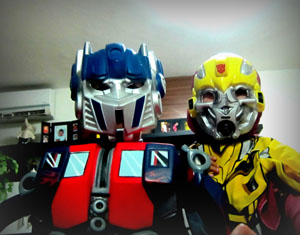 I can't remember when I took this picture. As far as I remember, this was one of the most beautiful moment of my motherhood experience. The role play was super fun and engaging. Bumblebee and Optimus Prime's relationship represents me & Raka's. I came from other planet, on the same mission with Prime. I read the manual like TUM or books or google even ebay. I lost voice for too much screaming. Prime loves me, mmm well I'm his most trusted autobot.

#5 "Teman Makan yang Menyenangkan" by ditut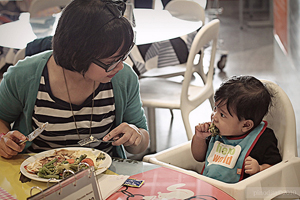 Hidup tanpa asisten rumah tangga dg 3 anak, berarti musti pinter menyiasati bermacam hal termasuk parenting style kami. Salah satunya adalah acara makan. Anak-anak musti terbiasa makan sendiri tanpa harus nungguin disuapin. That's why anak2 sejak dini kuajarkan untuk berlatih makan sendiri. Karena kebetulan lagi mraktekin Baby Led Weaning method,acara makan di luar rumah dg baby Neo jadi lebih mudah. Dia udah terbiasa dan terlatih makan makanannya sendiri.


#6 "Play Me Some Tunes, Mama" by djemima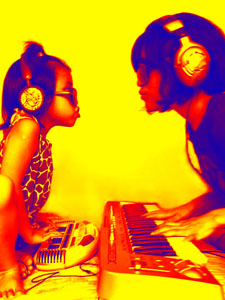 As someone who loves what I do, and happen to do what I love, I'm extremely lucky to have both music and Ayla in my life. Walau kadang mama ngga pulang bebeh, dan mama ngga bawa uang bebeh, tapi jadi seorang ibu yang bisa bernyanyi untuk anaknya di saat genting (ngga bisa tidur, bosen, sakit) adalah berkah yang luar biasa dari Tuhan and I'll always be grateful for that.


So how do you vote your favorite picture? All you have to do is to go to our Quick Poll section and choose which picture you think should win as our first "Modern Mama". You can only vote 1 picture only, so think carefully before you choose.

For the finalists, congratulations! Please share the info to your friends, family, everyone and campaign that they should vote for you, anyway how.

For everyone who has submitted your pictures, thank you soo much for participating!! All of your pictures are really really good... for us, you all are the Modern Kartini, the Modern Mama!

The poll section for voting will be closed on Tuesday, 20 April 2010 at 23.59 WIB! Thanks to Zaralde & 20 Something Shop for sponsoring this event.
Good luck, finalists!