Mudahnya Membuat Pastry Profiteroles Kitty Choux
Enji Magetsari
A working mom, originally from Bandung. She lives in Singapore with food critics son Mahavyr and husband Arrizky Magetsari.
Instagram:
http://instagram.com/enjita/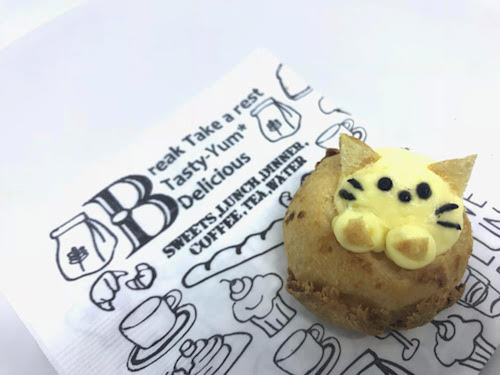 Saat ini banyak sekali bakery yang menawarkan berbagai macam pastry, antara lain pastry jenis profiteroles atau puff berbagai ukuran dengan atau tanpa isian cream custard. Kali ini saya ingin berbagi cara mudah memodifikasi puff siap pakai yang bisa Urban Mama dapatkan di bakery terdekat dengan isian yang dibuat sendiri ataupun siap pakai. 
Bahan:
Puff ukuran kecil siap pakai
Cream custard untuk isian siap pakai, atau membuat sendiri dengan resep dibawah.
Coklat yang sudah dilelehkan secukupnya untuk menggambar wajah Kitty, masukkan dalam piping bag.
Bahan Cream custard untuk isian: 
250 gram instant custard powder
500 ml susu segar/UHT
450 ml non dairy whipped cream  
Cara Membuat Cream custard:
Menggunakan mixer kecepatan sedang, aduk custard powder dan susu hingga tercampur rata.
Masukkan whipped cream sedikit demi sedikit kemudian aduk dengan kecepatan tinggi selama kurang lebih tiga menit, hingga adonan kaku. Dinginkan dalam kulkas selama kurang lebih 20 menit.
Masukkan dalam piping bag secukupnya.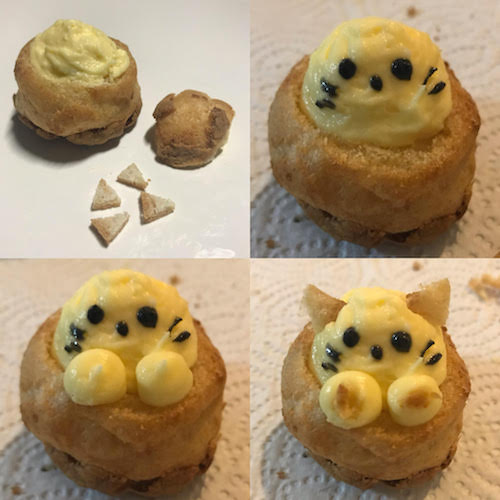 Cara membuat Kitty Choux:
Kerat 1/8 bagian atas puff, kemudian potong bagian kecil puff menjadi segitiga ukuran kecil sebanyak empat buah untuk telapak dan telinga Kitty.
Isi bagian besar puff dengan cream custard secukupnya. Menggunakan coklat leleh gambar wajah Kitty, semprotkan sedikit cream custard untuk dua tangan Kitty. Bubuhkan potongan segitiga untuk telapak dan telinga Kitty, lihat gambar.
Sajikan.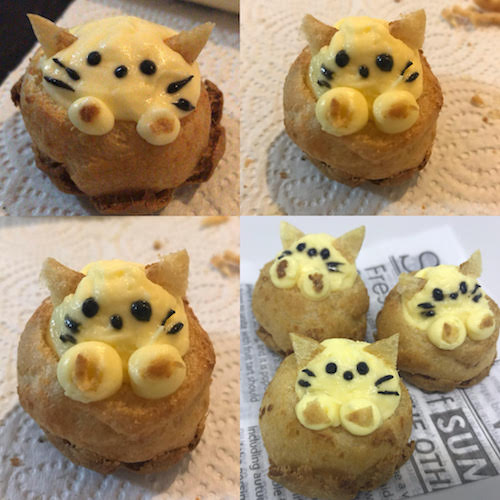 Semoga menginspirasi, selamat mencoba Urban Mama.
Post a Comment
You must be
logged
in to post a comment.