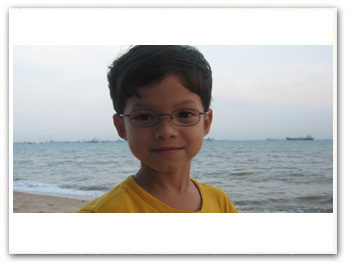 Fayyaz needs to wear spectacles for first time on Sat, Feb 20th. He started the day feeling high. He was so happy ("Cool.. I'll be like Damien, Dinera!" –when he heard the news first time).. He enthusiastically wore them till few hours later ….
"Enough Mama. I'm done.. My eyes are better now," giving his spectacles to me.
I laugh. "Yeah it's not comfortable in the beginning and you know why you wear them, rite? So you tried your best ok? You'll get used to them soon."


So.. he wore them again.. trying hard to be ok. Sometimes took them off a while to wipe his watery eyes.

Then we met Ms Monica from his Sat class who said that he looks like a little professor with the new glasses. Apparently the joke was taken seriously by Fay.
"Are you ok, Fay? you are so quiet."
"Yah ok." But his face didn't speak the same.
"Anyway... do you know what professor means?"
"Mmm... someone silly?"
Oh no wonder it hits him badly. "No.. no.. Professor is very smart."
"Oh I know now! The one who can invent lots of thing? I like to be a professor!"
"Yup..."


Yesterday was the first day he went to school with the glasses. He's now at K2.
"Hi Fay, how's your day today? What did your friends say about your spectacles?"
"You know.. Damien said something rude."
I felt my heartbeat is increasing. "What is it?
"He called me GRANDMA."
Do you hear something breaking? It's my heart! "Oh, I see. How did you feel?"
"Angry."
"Yah it's not something nice to hear. No wonder you felt angry."
"He said it rudely. But I didn't hit him, no push and no kick either. No hurting him."
"Wow that's good! You can control your anger."
"Yes because when we're angry we should not hurt others."
I'm so glad that the rule sticks on you, young man! "So what did you say to him?"
"I said It's rude and its not good to say that."
I'm so proud of him. "Cool! Then?"
"I said to him I'm a boy! not grandma... But GRANDPA!"
"Ah!" I tried hard to keep my cool outside.
"He kept calling me grandpa or grandma all the time. I think it would last until December.."
"Wow... December is still a long time. So what's your plan for tomorrow?" Please God don't let him give up!
"I'll wear my spectacles still... but probably hide them when I meet him.. I'm a good hider."
"Hm, I see. But you're in the same class with him. Do you think you can hide them all the time?"
"Mmm.. I can't. You know, he's also wearing spectacles... like me..."


Then he paused as his father stepped into the room. Fayyaz called his father, Abah.
"You know Abah... Damien said rude things to me. He said I'm like grandma. Jake asked me why I wear glasses. Luc and Roman said I look like a little professor!"
"Yeah.. a Professor is smart," said Abah.
"Fay.. just an idea.. do you think it's better to let Damien know about how you feel being called with other names?"
"Yeah! We don't call people with other names. Grandma is grandma.. Grandpa is grandpa.. And I'm Fayyaz! I'm 5 years old. I just look different with spectacles. That's all. And that is ok!" It was as if he talked to himself.
"Oh Fay... That is a really brilliant thought! I'm so glad you think that way. It's great!"
"Yes!" He smiled.
"So, do u want to tell him tomorrow?" Of course I'm not satisfied yet till I get that kid to know the in's and out's that my baby is not a grandma!
"Mama... I'm so sleepy now."
"Ok."


Today, second day at school, another surprise came.
"How was it? Did you meet Damien today?"
"Yes and I said to him that it was not nice to say that to me."
"Good! What else?"
"I also said he looks good with his spectacles."
"WHAT? Did I hear it correctly? Hold a minute... He said something rude about you and your glasess, and you said something nice to him about his glasses?"
"Yes."
"WOW! It was very thoughtful! Then what did he say?"
"He said he should've said 'nice' to me."
I couldn't believe it! "Did he continue to call you 'grandma'?
"Nope.. He stopped it."
I still couldn't believe it.
"He called me with other name."
"What was it?"
"Rock, man! He called me that in the school bus. It's cool rite?"
I was completely speechless and amazed.

This incident made me realize that:


I didn't expect earlier that the issue can go beyond him losing his glasses or can't keep them hanging there.


He had entered our real world where he faced something unpleasant beyond his control. There was nobody to help him and had to handle it himself on the spot.


The book I read was right. It's very important to train our kids to be self-directed. As we can not protect or solve his problems all the time. He has to develop skills to do it on his own. I'm so relieved with the way Fayyaz handled it.


It's very important to help kids build their self-esteem and ability to control their emotions. I feel we're in the right track. All the efforts seem to have paid off. But the journey had just begun. He will face much more difficult issues than having his friend calling him names. So my job to coach him is far from finished. But I could't be happier with this 'job' :)


Never under estimate kids and allow them to solve their own problems .


Special thanks to Damien who had given a valuable chance to my little professor to exercise his values and thinking skills. Without him, I won't know the quality of my own son.