Enji Magetsari
A working mom, originally from Bandung. She lives in Singapore with food critics son Mahavyr and husband Arrizky Magetsari.
Instagram:
http://instagram.com/enjita/
Yogurt Parfait adalah salah satu hidangan camilan yang tak hanya dingin menyegarkan, namun juga sehat kaya vitamin dan serat. Biasanya yogurt parfait berisikan lapisan yogurt, granola dan buah-buahan seperti strawberry dan blueberry. Yogurt parfait bisa juga disajikan dengan buah-buahan lokal yang sedang musim, misalnya jeruk dan anggur yang selalu ada di pasaran. Granola bisa diganti dengan oats atau kacang-kacangan favorit. Tambahkan madu, selai atau susu untuk memperkaya rasa parfait.
Alat dan bahan:
Gelas atau jar transparan
1 buah jeruk mandarin ukuran kecil, sesuaikan dengan besar gelas saji, kupas, belah dua
2 butir anggur hijau
Granola mix atau oats dan kacang-kacangan secukupnya
1 sdm madu (jika suka)
Yogurt rasa vanilla atau Greek yogurt (plain) 
Cara Membuat:
1. Kupas dan belah dua jeruk mandarin, Gunakan 1/2 buah jeruk yang dipotong melintang untuk membuat tampilan menyerupai bunga.
2. Potong melintang anggur untuk membuat tangkai dan daun, lihat pada gambar.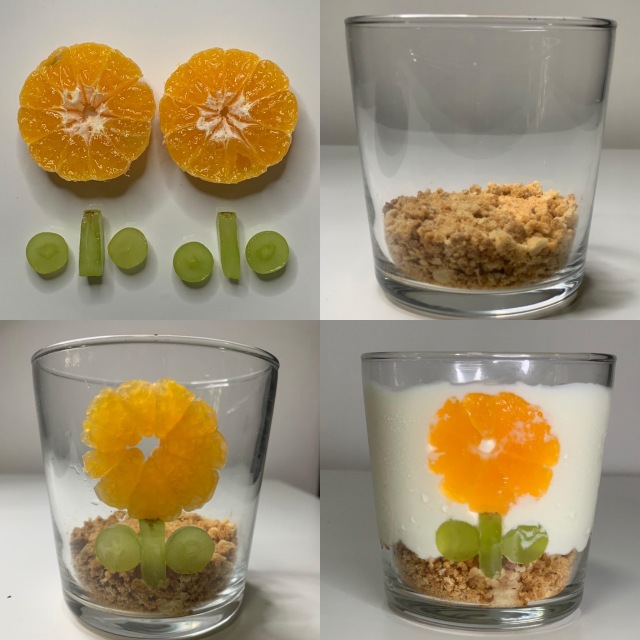 3. Masukkan granola, kacang-kacangan atau oats hingga mengisi seperempat gelas. Tambahkan madu, jika suka.
4. Atur potongan buah anggur dan jeruk pada dinding gelas, seperti pada gambar.
5. Masukkan yogurt, tambahkan potongan buah di tengah gelas jika perlu.
6. Penuhi gelas dengan yogurt hingga hampir menutupi bagian jeruk.
7. Sajikan yogurt parfait selagi dingin.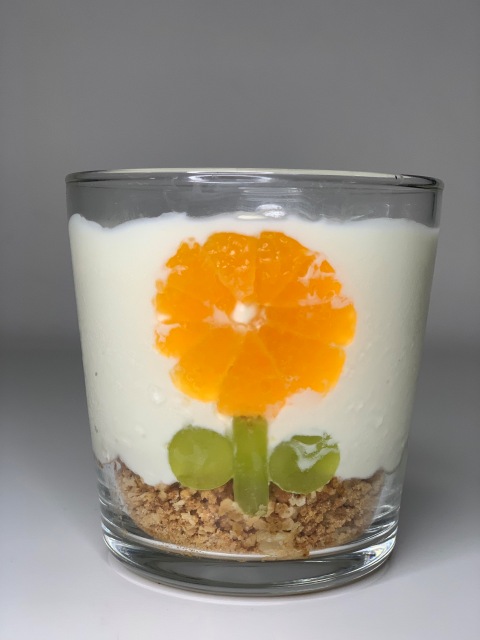 Mudah sekali bukan, membuat yogurt parfait yang cantik dan lezat ini? Selamat mencoba, Urban Mama!
Post a Comment
You must be
logged
in to post a comment.