Taking Care the Baby Teeth
Way before the first tooth has erupted, we should already started the habit of cleaning our baby's mouth by wiping their gums after each feeding. Once the teeth begin coming in, the care continues as part of the habit that our child needs to follow as part of their routine.

Many parents think baby teeth aren't important because they're eventually replaced by permanent ones. But these first teeth preserve the spacing for the permanent ones and help baby chew and talk. If they're not care for properly, they can decay, leading to a gum infection called gingivitis, which can affect the spacing of permanent teeth.

The key to establishing good brushing habits is starting an oral care program early. When they are still a baby, you can use thimblelike, soft rubbery devices (they fit over your index finger) for rubbing off excess food and brush their teeth with. But as they get older, brushing their teeth could be quite a hassle. They wouldn't let your finger go inside their mouth, turn their heads away, tightly close their mouth or even bite your fingers when they go in. As they get older and can hold a toothbrush themself, they wouldn't let you do the brush but they cannot yet do the job themselves properly. So, what do we do?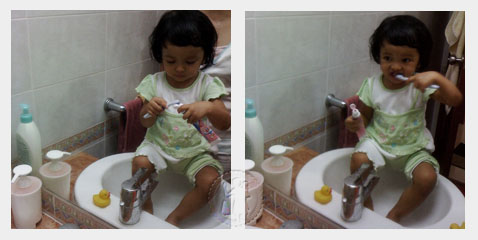 1. Make it Fun!
Make it as a fun activity rather than a chore which must be done.

2. Include them in your daily routine
Do the activity together, so your child knows that you're doing it too. A child loooveess to mirror what their parents do! If s/he sees you do it, s/he will want to do it too.

3. Let them "brush" their own teeth
One fun method (and quite effective) is allowing your children to brush your teeth. You should laugh a lot and make it a fun activity. Then allow them to "brush" their own teeth. While they do it, tell them that you're showing it to them first and they can finish it off. Sometimes, I even ask my daughter to also "brush" her favorite doll's or the rubber duck's teeth.

4. Teach them how to spit
Kids just love playing with water. That's why I sit my daughter in the sink when she does her routine. I'm still teaching her how to spit correctly (she still ends up swallowing the water first then act like she's spitting, but she's getting there!). But the fact that she's allowed to do it during this activity is a fun thing for her, so it makes her eager to do this routine.

5. Make it a habit
Children is a product of habit. If you have this as a routine thing to do and involve yourself during the process, they will start doing it themselves. Since I always let my daughter sees me brushing my teeth before bed then ask her to brush her teeth too, now she asks to brush her teeth before she goes to bed (or whenever she sees toothbrush!).

I myself still have a long way till my daughter can really learn how to brush her teeth on her own correctly, but we're getting there. At least she knows that it's not something she should be dreaded for and it's a fun activity for her with her papa or mama.