The Urban Mama Forum
The Urban Mama Forum
Halal Bihalal 2014: TUM Breastfeeding Friends
#TUMHalbil
Urban Mama, setelah Ramadan berlalu, akan lebih menyenangkan bila kita bertemu untuk Halal Bihalal. Kali ini temanya tentang Breastfeeding.
Yuk segera daftar di sini:
http://theurban.us/halbil2014
. Ada pertanyaan? Sila
post di event threadnya
. See you!
---
#TUMLuncheon Bandung
Untuk urban Mama dan Papa di Bandung, terutama yang berwiraswasta, ikut #TUMLuncheon bulan ini yuk? Temanya tentang
Hak Kekayaan Intelektual Bagi Usaha Kecil/Rumah Tangga
, untuk mengetahui strategi membangun brand usaha/produk dari perspektif Hak Kekayaan Intelektual.
---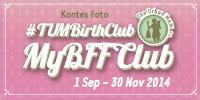 #TUMBirthClub Contest
Menyambut ulang tahun TUM ke 5 pada 22 Desember ini yang bertema #TUMbff, kami memanggil mama-mama #TUMBirthClub
untuk mengikuti kontes #TUMBirthClub my BFF club
. Yuk! Ikuti kontesnya. Food truck Retro Gourmet akan hadir ke tempat pemenang kontes. Let's celebrate our friendship. Show us your coolest #TUMBirthClub photo!
Forums in this category with details of topics, posts, last post
Announcements of any changes to the forum, contests, events, etc. To share your events, please send us email at [email protected]
An on-going charity effort by TUM. Let's share and give :)
The Urban Fit (Fitness and Health)
Home is where the love is. Furnitures, home decorations, wallpapers and paintings... talk about it here.
Anything and everything around the kitchen.
Got recipes for baby, toddler, or the whole family? Share your recipes here, Mamas & Papas!
Insurance, Financial plans for Birth and the Kids, even Job Vacancies :)
Forum statistics
Total number of registered users: 62,988
Total number of topics: 2,706
Total number of posts: 183,506
Currently online ( 194 guests, 23 registered users )
cynkoirewa, dazzlingdian, DesyMommyKayra, Hertins, hilda bagas, ling, littlegirl, LokahittaLover, maiandra, mamalyra, mamamama, Mbak Nana, mommykanda, mommynic, monino, ninit, nixcute, preti, puputpuput, satriandra, thasya, Truly Syarif, vitaahmad