The Urban Mama Forum
The Urban Mama Forum
#TUMbreastfeeding Month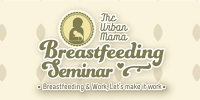 #TUMBreastfeeding Seminar:
Breastfeeding and Work, Let's Make It Work!
Memanggil para mama untuk hadir di event tahunan TUM dalam rangka menyambut world breastfeeding week, 8 Agustus 2015 pkl 10.00 di Downtown Bistro.
Akan hadir 2 nara sumber yang merupakan #TUMExpert yaitu
Anna Surti Ariani
, psikolog, dan juga
Fatimah Berliana Monika
, konselor laktasi.
Registrasi sudah dibuka di
sini
.
Forums in this category with details of topics, posts, last post
Announcements of any changes to the forum, contests, events, etc. To share your events, please send us email at [email protected]
An on-going charity effort by TUM. Let's share and give :)
The Urban Fit (Fitness and Health)
Home is where the love is. Furnitures, home decorations, wallpapers and paintings... talk about it here.
Anything and everything around the kitchen.
Got recipes for baby, toddler, or the whole family? Share your recipes here, Mamas & Papas!
Insurance, Financial plans for Birth and the Kids, even Job Vacancies :)
Forum statistics
Total number of registered users: 79,908
Total number of topics: 3,072
Total number of posts: 199,126
Currently online ( 271 guests, 9 registered users )
adelia putri, anttie, Chamarsha89, kabochacake, Mama Windy, mamidi, medynaroesly, mommydear, mon@lisa