The Urban Mama Forum
Halal Bihalal 2014: TUM Breastfeeding Friends
#TUMHalbil
Urban Mama, setelah Ramadan berlalu, akan lebih menyenangkan bila kita bertemu untuk Halal Bihalal. Kali ini temanya tentang Breastfeeding.
Yuk segera daftar di sini:
http://theurban.us/halbil2014
. Ada pertanyaan? Sila
post di event threadnya
. See you!
---
#TUMLuncheon Bandung
Untuk urban Mama dan Papa di Bandung, terutama yang berwiraswasta, ikut #TUMLuncheon bulan ini yuk? Temanya tentang
Hak Kekayaan Intelektual Bagi Usaha Kecil/Rumah Tangga
, untuk mengetahui strategi membangun brand usaha/produk dari perspektif Hak Kekayaan Intelektual.
---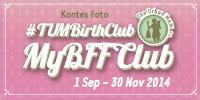 #TUMBirthClub Contest
Menyambut ulang tahun TUM ke 5 pada 22 Desember ini yang bertema #TUMbff, kami memanggil mama-mama #TUMBirthClub
untuk mengikuti kontes #TUMBirthClub my BFF club
. Yuk! Ikuti kontesnya. Food truck Retro Gourmet akan hadir ke tempat pemenang kontes. Let's celebrate our friendship. Show us your coolest #TUMBirthClub photo!
Topics in this forum with details of replies, views, last post.